In the age of Twitter, the NSA and 24 hour news media, the concept of privacy has become rather quaint in some areas, particularly relating to celebrity. Even for the world of literature, hardly the most glamorous when compared to the old favourites of Hollywood, having a public profile has become the norm. Even Salman Rushdie, the man who spent a number of years in hiding, now has a Twitter account. The concept of the reclusive author has become more appealing and fascinating with time, so here are some of the more famous examples.
Harper Lee: Sometimes, all you need to write is one book. To Kill a Mockingbird made Harper Lee an overnight star, saw her
receive the Pulitzer Prize for Fiction and remains a best-seller to this day, not to mention a staple of high school reading lists. After its publication, Lee's most notable work came in the form of her assistance of childhood friend Truman Capote during his research trips to Kansas for an article that became the non-fiction classic In Cold Blood. With the exception of some essays, Lee has never published another work, although she did start and later abandon at least two works (one fiction, one about a serial killer in her home state of Alabama). Lee gave very few interviews in the interim 40 years and was said to handwrite her impeccably polite letters declining numerous invitations to events, interviews and the like. Recently, she made headlines after filing a lawsuit to regain copyright of her work from a son-in-law of her former literary agent, who duped her into signing away the rights while residing in an assisted living facility. Mercifully, a deal was reached.
Thomas Pynchon: When even the vast, seemingly limitless reaches of Google can't reveal a photograph from the past 40 yeara, you know he's a recluse. Pynchon's first novel, V, was published in 1963 and he has studiously avoided all press and publicity since, even as his work has become part of the classic canon. The sheer complexity of his work (Gravity's Rainbow is said to be one of the toughest books to read) only fuels the interest in him as an author. Many conspiracy theories have surrounded his decision to remain so private, including a rumour that he was actually another reclusive writer, JD Salinger. Pynchon's explanation for his reclusiveness is as wonderful as you'd expect from the man: "My belief is that 'recluse' is a code word generated by journalists … meaning, 'doesn't like to talk to reporters'." However, he did relinquish his privacy for one jump into the public eye with a guest voice appearance on The Simpsons as himself. He appeared with a paper bag on his head. Perhaps he will turn up to the premiere of the adaptation of Inherent Vice and nobody will recognise him.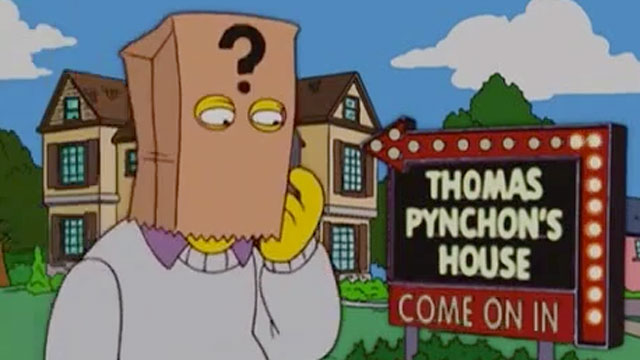 Emily Dickinson: When many think of a reclusive author, the model of Dickinson is what comes to mind. Dickinson wrote around 1800 poems in her lifetime, although she only lived to see a tiny handful of them published. With a chronically ill mother at home and what many modern doctors have speculated to be numerous anxiety and mental disorders, Dickinson spent the final twenty years of her very short life in her home, not even leaving to attend her father's funeral (she listened in from her bedroom). It wasn't until her death that her sisters realised just how prolific she was, and the first collection of her work was published four years later.
JD Salinger: While the writer of The Catcher in the Rye is generally considered to be one of the 20th century's greats, it's somewhat mind-boggling to realise that in his extremely lengthy life, Salinger only ever published one novel and thirteen short stories & novellas. He wrote many more, something his family and infamous ex-partner Joyce Maynard have discussed at length, yet apparently never felt the need to seek publication since he found enough satisfaction in writing for himself. Salinger's own daughter Margaret published a memoir of her childhood, where she described her father's often controlling nature over her mother, but her brother discredited her work. His ex-girlfriend, fellow author Joyce Maynard, who she spent 9 months with when she was 18 and he was 53, auctioned off a series of letters from him, but they were bought by someone who returned them to Salinger. 3 previously unseen stories by the author were leaked onto the internet last year after an illegally printed collection was auctioned off on eBay (as you do). Given Salinger's own request that his remaining work not be published until he'd been dead for 50 years, this would undoubtedly have pissed him off.
Bill Watterson: The creator of Calvin and Hobbes had a less than conventional view of the newspaper cartoon industry during his decade in the business. Stringently fighting against the licencing of his work (which is why you'll never see any merchandise, even though we all really want our own plush Hobbes), Watterson firmly believed in the integrity of his work and its status as art for all ages. Following his retirement of the comic and from the industry at the age of 37, Watterson spends most of his time painting and avoiding public appearances and interviews, although he has given some over the past couple of years, notably a very worthwhile piece by Mental Floss. This week, he revealed his first comic piece since retirement, a poster for the documentary film Stripped. Don't call it a comeback!
Cormac McCarthy: Before his ex-wife pulled a pistol from her genitals during an argument over extra-terrestrials (no, really), Cormac McCarthy had mostly remained out of the public eye, relenting only for some light publicity for the films of his work and an interview with Oprah. You just don't turn down Oprah. Still, after that brief foray into the limelight, where he admitted he didn't really associate with other writers an didn't get the point of Proust, he returned to his quiet life. Then the ex-wife thing happened, but we won't hold that against either of them.